TruMotion is Operational at Atlantic Packaging!
The Future is Here.
Can you feel the shift? We've seen vast improvements in both the quality and the quantity of environmental field data. This now demands improvements in test methodologies. Regulatory bodies are paying attention – starting to require testing that's closer to reality – closer to the truth.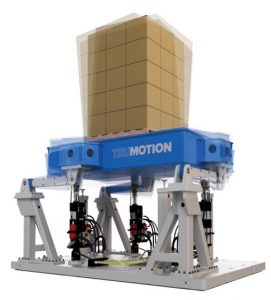 Introducing Lansmont TruMotion™ vibration equipment – our first purpose built multi degree of freedom test systems, delivering high fidelity motions. These advanced simulation solutions bring true-to-life test results directly into your laboratory.
TruMotion strengthens the credibility of your test results while instilling greater confidence that your product and packaging solutions will maintain their quality and efficacy within the supply chain, all while complying with the latest regulatory requirements.
TruMotion Load Stability Test System Details
TABLE DIMENSIONS:
Side to side: 108 in. (2743 mm)
Front to back: 66 in. (1676 mm)
TEST CAPABILITIES:
8000 lbs. (3629 kg) max. payload, with 40 in. (1016 mm) high specimen CG
3DOF – pitch, roll and vertical inputs
Max. acceleration 1.5g
Max. velocity 20 ips (0.508 mps)
Max. displacement 6 in. (152 mm)
Max. rotational angles +/- 6.5°
ISTA & ASTM Truck and Rail SDOF PSDs
Field-to-Lab® drive file incorporation
FEATURES:
Best-in-class Data Physics* Matrix multi-axis vibration controller
Sine, random and time waveform replication software
Thru-put to disk and calibration software
16 input channels for control and data acquisition
Dedicated host PC with 24 in. (609 mm) LCD monitor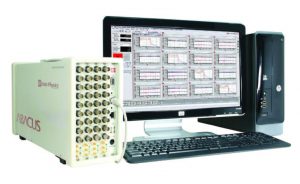 OPTIONS:
SAVER 9X30 TruMotion MDOF rig for spatially appropriate Field Measurements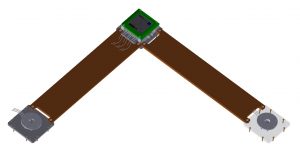 Check out why Atlantic Packaging  added TruMotion Testing Capabilities to their Packaging Solution Center in Charlotte, NC.