Lansmont Presents at ISTA's European Symposium – March 11th
ISTA European Packaging Symposium – Exploring the Future of Responsible Transport Packaging
The European Packaging Symposium will be held March 10 – 12, 2015 at ITENE in Valencia, Spain. ISTA and ITENE have released the impressive speaker lineup for this year's conference. Presentations will give a practical overview on economic and environmental optimization of distribution packaging development and on the latest techniques in testing of packaged products to assess fitness for distribution.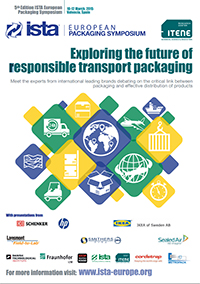 Download the Symposium Brochure
This symposium will bring together industry leaders from Hewlett Packard, IKEA of Sweden AB, Sealed Air, Metropack, European Federation of Corrugated Board Manufacturers, Danish Technological Institute, Bosch Siemens Hausgeräte, Smithers-Pira, Schenker Deutschland AG, Cordstrap BV, Stop Wasting Food Movement Denmark, Kellogg's European Research Nutrition & Technology, Fraunhofer Institute, INCPEN, ISTA, ITENE..
…and, of course, LANSMONT!