ASTM D-4169 Air Vibration Profile Update
After a significant effort as part of Work Item (WK) 67358, ASTM has updated the Air profile called upon within D-4169, Standard Practice for Performance Testing of Shipping Containers and Systems. This Work Group recommended the update after undertaking – and analyzing – a number of actual air (in-the-air) transport measurements. Additionally, the Work Group researched past published air transport studies, as well as relevant industry cargo transport test standards, all of which were used to establish the recommended profiles shown below.
There are now three profiles, with similar shapes, but differing Grms levels that users will run sequentially to complete the recommended test duration. The PSD profile shapes and intensities are based upon real-world, data-based measurements and observations. Those profiles are:
Low – 0.16 Grms

Medium – 0.22 Grms

High – 0.29 Grms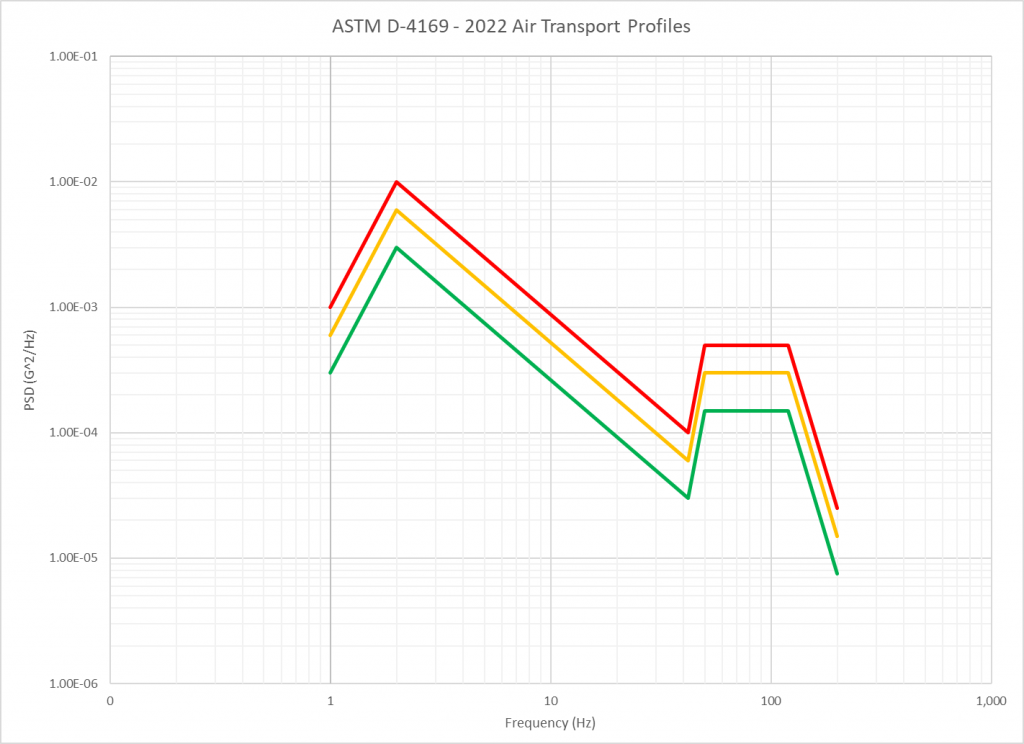 ASTM created a document, which explains the rationale for the overall update, as well as the specific changes associated with the updated:
PSD profile shape
PSD profile intensities
PSD test durations
The ASTM Air Profile Rationale document is considered copyrighted by ASTM. To view the complete document, ASTM Members can access the PDF by logging into their member account, visiting My Committees, and selecting My Committee Documents.
To purchase and download a complete version of the ASTM D4169 Test Procedure, please visit ASTM directly at: https://www.astm.org/Standards/D4169.htm

To download the new ASTM Air Profiles in the appropriate TTV format (.PRN), please submit the form below: