ASTM D4169 Random Vibration Profile Update
After a significant effort, ASTM has updated the Truck profile called upon within D4169, Standard Practice for Performance Testing of Shipping Containers and Systems. There are now three profiles, with si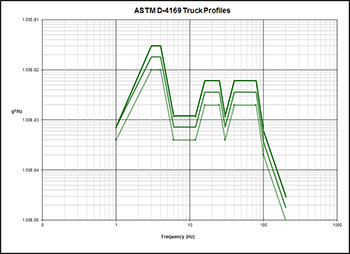 milar shapes, but differing Grms levels that users will run sequentially to complete the recommended test duration. Those profiles are:
ASTM created a document, which explains the rationale for the overall update, as well as the specific changes associated with the updated:
PSD profile shape
PSD profile intensities
PSD test durations
Download that rationale document by clicking: ASTM D4169 Random Vibration Update Rationale – 09/16
Lansmont is including a download link for Lansmont TouchTest Vibration users, where they can download the new profiles in the appropriate TTV format (.PRN).
Download link to compressed/zipped TTV Random Profiles: Updated D4169 Truck Profiles
To purchase and download a complete version of the ASTM D4169 Test Procedure, please visit ASTM directly at: https://www.astm.org/Standards/D4169.htm
After downloading the zipped file, open the file and extract the three Lansmont TTV PRN random profiles.
Locate Touch Test Vibration folder – Usually C:\TTV2
Copy downloaded PRN files to C:\TTV2\DmdProRnd
Launch TTV Software
Enter Random Vibration module
Open Test Queue – new profiles should now show up in the list.
From here, you'll need to add the Low, Medium and High profiles into your Test Queue sequentially, then save the Test Q accordingly. See the video below, walking you through the TTV Test Q creation process…