Drop Tester Optional Accessories – July 13
Optional Baseplates, Platens, and Carriages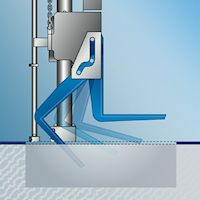 Thanks to gravity, your test specimen is guaranteed to fall onto some sort of impact surface during a drop test. Depending on the size of your test items and the types of drop testing that you need to perform, we offer different types of impact surfaces.
For test items that are tested with a PDT-56 or PDT-56ED Drop Tester, we include a standard baseplate that is 36 inches wide. With the standard platen, the minimum drop height is 11 inches. For customers that need to perform drop heights below 11 inches, we have a slotted baseplate option and foundation kit that allows for drops as low as 1 inch.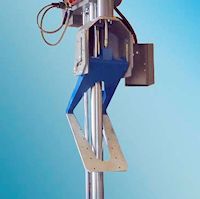 If your package dimensions are too big for the standard platen, we offer an extended platen to accommodate larger package sizes. The extended platen holds packages with a front-to-back dimension of up to 36 inches. Larger packages may necessitate a larger impact surface. We offer an oversized baseplate which widens the impact area from the standard 36 inches to 60 inches.
For Heavyweight Drop Testers, we have varying carriage sizes as well. To accommodate testing of larger items, drop carriages with extended length may be better suited to your largest test specimen. Optional Baseplates are available for the standard and extended carriage sizes.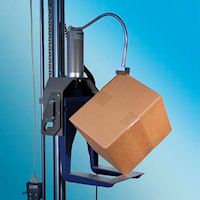 Edge and Corner Holding Fixtures
Dropping on edges and corners is a common practice for all drop testing specifications. Edge and Corner Holding Fixtures are available for all our drop tester models to assist with these types of tests. For the PDT-56 and PDT-56ED models, the optional flexible structure mounts to the drop tester and holds packages in position prior to the drop event when performing edge or corner drops.
For our Heavyweight Drop Testers, we include an Edge and Corner Holding fixture is included to assist with orienting large, bulky packages for testing. Oversized or custom E&C fixtures are available for special drop testing applications.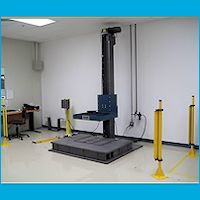 Safety Interlocks
Safety is always a concern when operating laboratory test equipment and Lansmont offers different types of safety interlock options to assure equipment operators stay clear of any hazardous situations. For example, we can integrate an optional photocell light curtain, which disables the drop tester when triggered.
Contact Lansmont to learn more about the various optional Drop Tester Accessories and how they can add value to your laboratory test system.