ISO/IEC 17025 Accreditation

Lansmont Corporation is pleased to announce ACLASS accreditation for our Calibration Services to ISO/IEC 17025:2005 and ANSI/NCSL Z540-1-1994.
Calibration establishes confidence that measurement results are accurate and assurance that instruments and equipment operate within specified limits. This accreditation demonstrates technical competence for the defined scope of parameters with the operation of the laboratory and field quality management system.
The ISO/IEC 17025 standard was developed in cooperation between International Standards Organization (ISO) and the International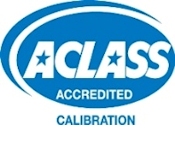 Electrotechnical Commission (IEC). It merges technical competence requirements with requirements for quality systems.
If you would like to learn more about our calibration services or quality program, please contact me for more information