Lansmont Sponsors ISTA European Symposium
The ISTA European Symposium, held October 18-19 in Valencia, Spain, provided practical insight into economic and environmental optimization of packaging for distribution. Speakers from HP, Ericsson, Billerud, Novamont, Sealed Air, UPS, SCA Cool-Logistics, B/S/H, BASF, and Bang & Olufsen gathered to share ideas. Testing experts from ISTA, PIRA International, ITENE, Michigan State University, and the Fraunhofer Institute IML were also featured during the conference.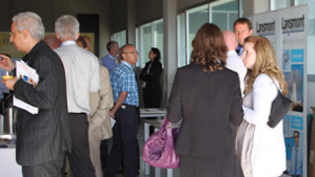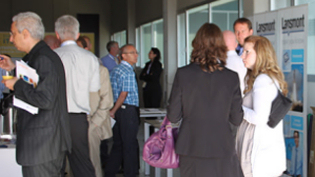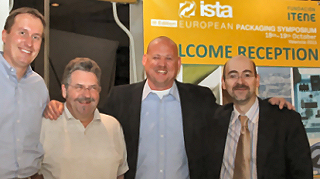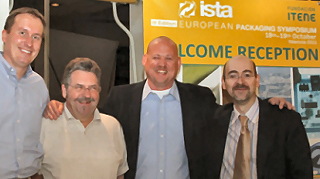 Left Photo: Lansmont information booth Right Photo: Bart Feys of Lansmont on left, Gerrit Hasselman of the Fraunhofer Institute IML, Marten Ries from IPS Technology, and Manuel Garcia Romeu of ITENE
Gerrit Hasselman from the Fraunhofer Institute IML in Dortmund, Germany presented on Safe Unit Load and Cargo Securing and the dynamic testing used for performance verification. Fraunhofer Institute IML is actively pursuing research in this area and recently commissioned Lansmont to develop a new Horizontal Impact Test System (HITS). The system will be capable of handling 1,500 kg samples, generating up to 0.8 g forces at 800 milliseconds with an impact velocity of 14 km/h. This specialized HITS will be used for verification of load securement systems, as well as innovative research into new concepts and applications.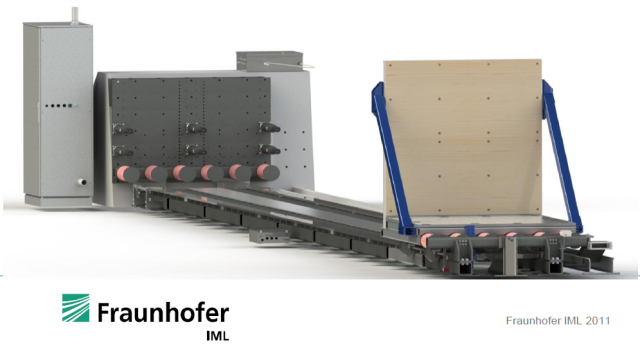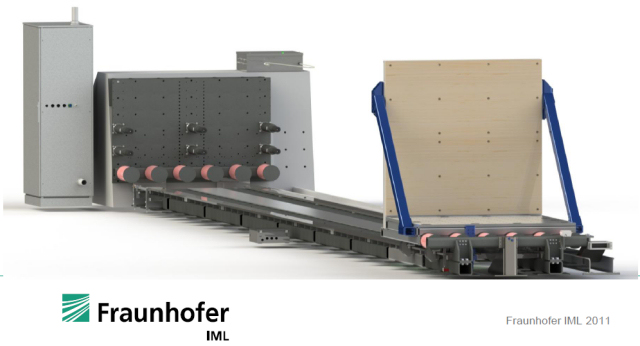 At Lansmont, we believe it is important to actively participate in ISTA's global activities and therefore it was a pleasure to sponsor this event. Bart Feys, Lansmont's European sales manager, serves on the Board of Directors of ISTA Europe and attended this event to represent Lansmont.
To learn more about the European Symposium or the HITS highlighted above, please
Contact Bart Feys for more information.