Case Study- US Army Acquires Vertical IED Blast Simulator
The Challenge
The US Army needed outside expertise in delivering a vertical impact test system which could simulate the vertical energy associated with IED explosions, originating from underneath a vehicle, in a controlled laboratory environment.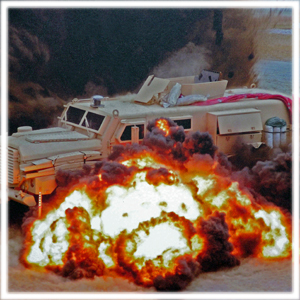 The Solution
Lansmont designed the VITS (Vertical Impact Test System), called Crew Seating Blast Effects Simulator (CSBES) by the Army Research Lab.
Stationary table impacted by a 1,200 lb bullet fired by a pneumatic piston.
Enough energy to drive the table with a 650 anthromorphic dummy 7 meters per second.
Three programmed impacts per event:
Initial impact to the feet area
Main shock event to table
Ensuing "after shock" coming from vehicle landing, know as "slam down".