Case Study – Basiloid Material Handling Simulator
The Challenge
Unique forklift fixture used to handle large packaged products during warehousing and vehicle loading.
No test system existed to simulate the dynamics associated with this unique mode of handling.
Original method of simulation, using real forklifts and drivers was neither efficient or repeatable.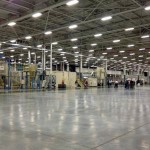 The Solution
Lansmont Engineering Services designed and manufactured MH‐15K Material Handling Test System.
MH‐15K utilizes Basiloid fixture attached to standard forklift mast, which is then attached to hydraulic actuator.
Time‐history data, captured from Basiloid‐mounted SAVER 3X90 drives test system, providing controllable, repeatable performance testing.