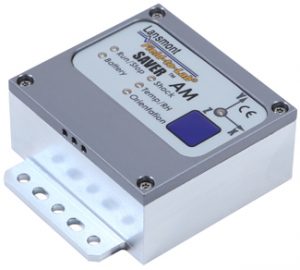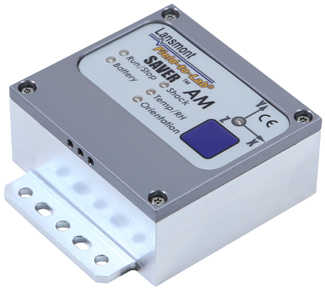 SAVER

AM

– Asset Monitor – Shock & Vibration Data Logger
How do you know your critical shipments have maintained their integrity during transport? Shipping cargo by truck, rail, air, and boat exposes products to multiple dynamic hazards from mishandling and mishaps such as:
Loading and unloading accidents
Rough roads
Sharp acceleration, braking, and turns
Dropped packages
Harsh railcar coupling
Lansmont SAVER™ vibration and shock monitors utilize durable, rigid aluminum chassis that assure high-fidelity measurements. SAVERs are trusted to monitor the transport of multi-million dollar products and assemblies. The SAVER™ AM is a high-performance data logger, providing an autonomous, rechargeable platform for monitoring the movement of critical assets throughout the supply chain. It utilizes an internal triaxial accelerometer which captures complete, full acceleration time-histories for all three channels. The SAVER AM also includes sensors for temperature, relative humidity, atmospheric pressure, tilt orientation and light – providing complete and thorough record of the environmental conditions during transport. With all these features, together in one measurement package, the SAVER™ AM provides unparalleled supply chain monitoring solution. Protect your business – and your customers – from the unknown with the The SAVER™ AM Asset Monitor – delivering unparalleled supply chain monitoring confidence.
Product Features
Full

triaxial accelerometer time-history

 wav

eform

User-programmable trigger threshold
User-defined pre-trigger recording (so you know what happened before the event took place)
LED alarm indicator for shock, Temp/RH, Remaining Battery Life, Atmospheric Pressure, Tilt Orientation
Push button, delayed start or instantaneous activation
USB connectivity for communication and instrument power

Full compatib

ility 

with 

SaverXware

 analysis software
Product Specifications
Body Envelope Size (with integral mounting flanges): 2.8 x 3.6 x 1.3 in. (71 x 91 x 33 mm)
Acceleration Range: 100 or 200g full scale (user selectable)
Accelerometer Type: Triaxial piezoelectric
Sampling Rates: 500, 1000, 2500 and 3000 samples per second
A/D Conversion: 12-bit
Anti-Alias Filter: 5-pole, low pass filter 50, 100, 250 and 300 Hz
3-dB Frequency Response: 0.5 Hz to filter setting
Temperature Measurement Range:  -20° to 60°C (-4° to 140°F)
Humidity Measurement Range: 5% to 95% RH, non-condensing
Atmospheric Pressure Measurement Range: 10 to 1100 mbar
Light Sensor Measurement: 0 to 2000 Lux
Light Detection: On / Off
Orientation/Tilt Detection: +/- 45 degrees from orientation
Memory Retention Modes:

Signal – Top 400

Dynamic

Acceleration Events (Max Overwrite)
Timer – up to 10,000 Events (

Static

measurements – temp/humid/press/light/orientation) – Fill Stop

Certifications:
Product Option Highlights
Mounting kits including magnets and other attachment hardware
External power for extended run-time