Drop Test Systems
Drop testing determines the ability of a package to withstand the impacts prevalent in the distribution environment. This process is vital for ensuring that products travel to customers safely and securely, eventually arriving damage free. In turn, drop test systems help companies save money and maintain positive brand-owner reputations by helping to design packaged products that will deliver products with their intended inherent quality intact. Lansmont Drop Test Systems are the gold standard for accurate and repeatable drop testing.  Every drop tester we manufacture is factory-calibrated to ensure it exceeds industry specifications.
What Is the Purpose of Drop Testing?
Drop testing mimics the shipping and distribution environment in a way that exposes packages to the types of impacts they may endure while traveling through the supply chain. By controlling the height from which the test samples are dropped, users are able to control the impact velocity, which is proportional to impact energy.
Verifying the effectiveness of your product packaging through drop testing ensures that your items will remain safe and intact throughout the transportation process. When your products can withstand harsh distribution conditions, you save money, minimize losses and ensure customer satisfaction.
Package Drop Testing Process
For this testing, a drop test apparatus creates freefall and sudden impact conditions across various heights and angles. The equipment repeats this process until it exposes a packaging fault.
Drop test procedures typically focus on specifying:
Drop height: Different test standards specify a range of drop heights, which may be dependent upon on the test item size, weight, and the simulated transport environment
Test item orientation: When testing cargo in different orientations, you can better evaluate areas where impact may affect the product
Number of drops: Typically, a package will be dropped a number of times, in different orientations, all based upon the intent of the reference test standard
Drop Test Methods
The methods you use to perform your drop test depend on the standard or regulation to which your company must adhere. Each international standard organization has guidelines that establish the proper drop testing techniques, including:
International Safe Transit Association (ISTA)
American Society for Testing and Materials (ASTM)
United Parcel Service (UPS)
International Organization for Standardization (ISO)
FedEx
United States Department of Transportation (DOT) CFR Title 49 HazMat
Our Package Drop Testing Equipment
You'll find various drop testing systems available at Lansmont that you can choose from based on your individualized needs. Each of our solutions offers different configurations, features and handling capabilities suited for shipments of all shapes and sizes.
PDT 80M
The PDT 80M is our low-cost Precision Drop Tester model. It can perform drop tests on items weight up to 177 lbs. (80 kg).  The standard drop height range is from 12 in. (30.5 cm) up to 72 in. (183 cm).  When using the PDT 80M, the drop height is adjusted manually and the drop tester is operated by a footswitch.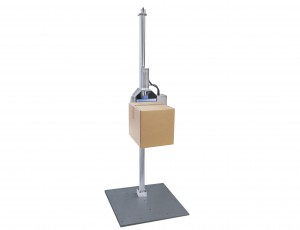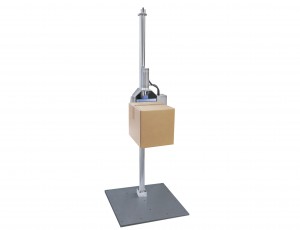 PDT 80
The PDT 80 features an electric hoist to raise and lower the drop leaf assembly and provides infinitely variable drop heights.  The standard drop height range is 12 in. (30.5 cm) to 72 in. (183 cm). Optional system configurations are available for tests that require more or less drop height.  The PDT 80 can handle test items weighing up to 177 lbs. (80 kg). The PDT 80 is operated by a handheld controller and also includes an optional footswitch.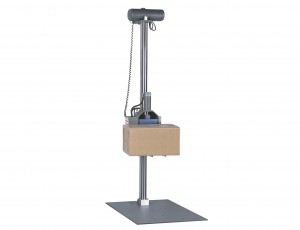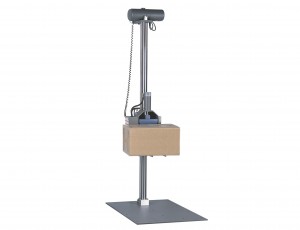 PDT 300
The PDT 300 can drop test large products and packages weighing up to 661 lbs. (300 kg). Standard drop height range is 72 in. (183 cm). Optional drop heights and carriage lengths are available to best suit your application.  The PDT 300 uses a handheld controller to operate the drop tester.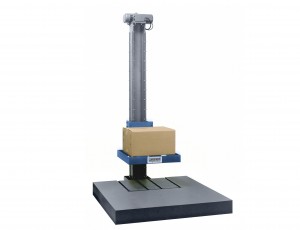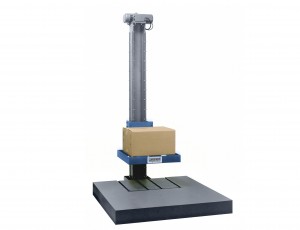 PDT 700
The PDT 700 facilitates precision drop testing of large test items weighing up to 1540 lbs. (700 kg). Similar to the PDT 300 design, the larger PDT 700 utilizes a welded steel drop carriage.  Standard drop height range is 48 in. (122 cm).  The drop carriage is raised and lowered by an electric hoist. The PDT 700 is operated by a handheld controller.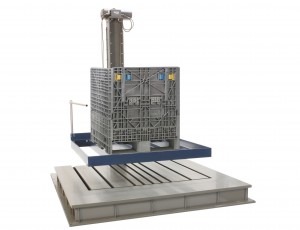 QR 3000
The QR 3000 is a Quick Release Drop Tester designed to drop larger, bulkier test items than the PDT models. The QR 3000 can accommodate loads weighing up to 3000 lbs. (1361 kg). Drop test height is limited only by the lifting device used by the customer (forklift, winch, etc.).  The QR 3000 is operated by a footswitch.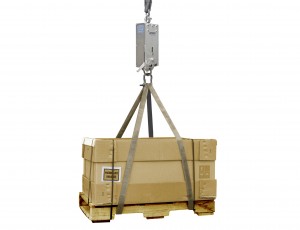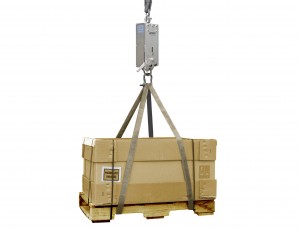 Benefits of Package Drop Testing
Performing tests using reliable drop testing equipment helps manufacturers and other stakeholders determine if their packaged products are well-prepared for the distribution environment. Aside from this purpose, package drop testing also comes with various additional advantages, including:
Evaluating a packaging system's ability to protect products
Determining the best performing packaging types
Influencing more sustainable, optimized packaging and product designs
Providing insights for mitigating risks
Preventing product damage
Minimizing losses
Assuring deliverable product quality
Determining compliance with industry, government or company regulations
Invest in Dependable Drop Test Apparatuses at Lansmont Today
You can prepare your products for distribution with state-of-the-art drop testing equipment from Lansmont Corporation. We've spent over 50 years developing products designed with quality and reliability at the forefront, helping engineers eliminate unknowns. Our testing equipment measures real-world dynamics and simulate them in laboratory environments to produce the most accurate results.
Browse our drop test equipment inventory or contact us for more information today!