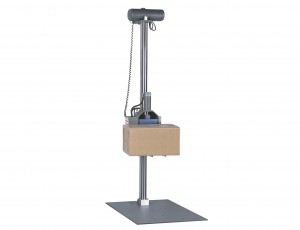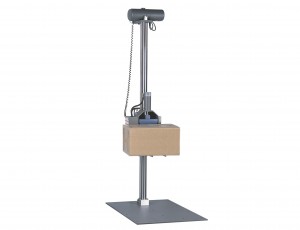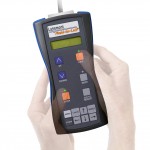 PDT 80 Precision Drop Tester
The PDT 80 is our most popular drop tester.  It is especially useful for testing applications where drop heights are changed frequently and/or heavier packages need to be lifted for testing. The PDT 80 features an electric hoist to raise and lower the drop leaf assembly and provides infinitely variable drop heights.  The standard drop height range is 12 in. (30.5 cm) to 72 in. (183 cm). Optional system configurations are available for tests that require more or less drop height.
The standard drop platen handles test items weighing up to 177 lbs. (80 kg) with a front-to-back depth of up to 24 in. (61 cm).  An extended platen is available that has a maximum weight capacity of 150 lbs. (68 kg) and increases the allowable front-to-back dimension to 36 in. (91.5 cm).
The PDT 80 handheld controller features the ability to set drop height, move the drop tester up and down, and arm and drop the platen assembly.  The LCD screen provides a readout of the current position and set drop height. When desired, it is simple to switch operation to the included footswitch.
Product Features Highlights
High-velocity pneumatic cylinder, precision cam design and unique brake system allow extremely accurate, flat drop testing that exceeds industry standards, such as ASTM D5276.
Handheld control, allowing for positioning of the drop assembly, triggering of the drop sequence, and resetting of the drop platen.
Electric hoist for positioning drop assembly and lifting heavy packages.
Footswitch, providing an alternative method of operation for triggering and resetting of the platen.
Precision cam and bearing design for producing flat drops.
Product Specification Highlights
Max Payload:
177 lbs. (80 kg) – Standard Platen
150 lbs. (68 kg) – Extended Platen
Max Item Size (Front/Back):
24 in. (61.0 cm) – Standard Platen
36 in. (91.5 cm) – Extended Platen
Product Options Highlights
Edge & corner fixture.
Extended platen.
Slotted and over-sized bases.
Complete product details available on downloadable specification sheet.
Edge & Corner Fixture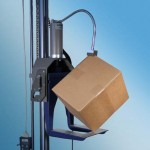 Extended Platen