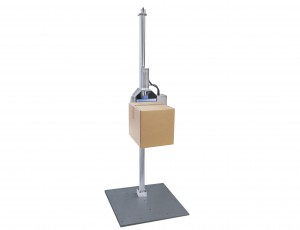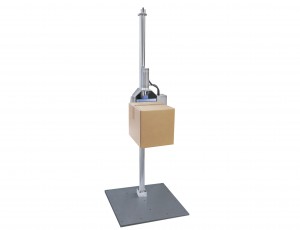 PDT 80M Precision Drop Tester
The PDT 80M is our low cost Precision Drop Tester model. The PDT 80M consists of a drop leaf assembly housed in a cast aluminum structure. The drop leaf housing is supported by a 3 in. (7.6 cm) diameter chrome-plated steel guide rod that is mounted to the 0.5 in. (1.3 cm) thick steel base plate.
The user manually adjusts the drop height by moving the drop leaf housing up or down as required and locking it in place. The weight of the drop tester is counterbalanced so changing drop heights is easy.  The steel guide rod is pre-drilled to give:
1 in. (2.5 cm) incremental drop height adjustment from 12 to 36 in. (30.5 to 91.5 cm)
2 in. (5.08 cm) increments from 36 to 42 in. (91.5 cm to 107 cm)
6 in. (15.2 cm) increments from 35 to 71 in. (88.9 to 180 cm).
The drop test is initiated through the use of a footswitch, allowing safe, efficient testing. The On / Off switch and power indicator lamp are located on the side of the drop leaf housing, easily accessible to the operator.
Product Features Highlights
High-velocity pneumatic cylinder, precision cam design and unique brake system allow extremely accurate, flat drop testing that exceeds industry standards, such as ASTM D5276.

Footswitch operation for triggering and resetting the platen.
Precision cam and bearing design for producing flat drops.
Counter-balance assembly to assist with the vertical positioning of the drop assembly.
Product Specification Highlights
Positioning: Manual height positioning with guide rod locking pin
Controls: Foot switch operation
Max Payload:
177 lbs. (80 kg) – Standard Platen
150 lbs. (68 kg) – Extended Platen
Max Item Size (Front/Back):
24 in. (61 cm) – Standard Platen
36 in. (91.5 cm) – Extended Platen
Product Options Highlights
Edge & corner fixture.
Extended platen.
Slotted and over-sized bases.
Complete product details available on downloadable specification sheet.
Edge & Corner Fixture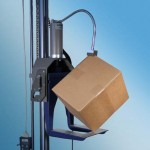 Extended Platen