Inclined Impact Test Systems
When packaged products travel through the supply chain, they are susceptible to experiencing significant shocks along the way. Though these impacts are expected, they can ultimately damage your goods and cost your company money and hits to your reputation. With inclined impact testing systems, you can subject your packaged products to simulated rough transportation environments to ensure the products will survive those events without any compromise to their inherent quality.
Lansmont Inclined Impact Test Systems meet industry specifications with the added benefit of some new and innovative design features. The unique articulating carriage system we utilize allows the carriage to pivot and raise so that it becomes parallel with the ground.  This design feature makes it much safer and easier to load test items with a forklift.  After the specimen has been loaded, the carriage pivots back into its testing position and you are ready to begin impact testing.
What Is Inclined Impact Testing?
Inclined impact testing simulates environmental dynamic forces that packaged goods may endure throughout transport and handling operations. These hazardous dynamics are simulated using impact test systems. Inclined impact test systems utilize a carriage that propels the test sample down a ramp at predetermined velocities before impacting into a fixed backstop. The specimen's reaction to these extreme conditions indicates how the product would fare in real-world supply chain settings, allowing design engineers to make improvements to either the product and/or the protective packaging as needed.
This side impact testing is used in numerous laboratory applications, including product and packaging design, packaged product transport simulation, and palletized unit load stability validation.
How Does Side Impact Testing Work?
Typically, inclined impact testing is carried out in a laboratory setting through a design department and testing team. The design department is responsible for developing the transport packaging solutions, while the testing team performs the impact test and validates the design work. However, there is no single procedure for performing inclined testing, as these methods depend on the industrial packaging standard in question. Some of the main organizations that establish guidelines for side impact testing include:
American Society for Testing and Materials (ASTM).
International Safe Transit Association (ISTA).
Military Standard (MIL-STD).
International Organization for Standardization (ISO).
Each test standard specifies the required number of impacts, the impact velocity, which sides of the packaged product should be tested, and the order in which the impacts should occur.
Our Inclined Impact Test Systems
You can evaluate your goods using reliable inclined impact test systems from Lansmont. Our robust state-of-the-art test systems are designed for long-lasting use and user-friendly operation. Each of our solutions has different load size/footprint/weight capabilities that you can choose from based on your products and their intended environments.
Browse our comprehensive selection of inclined impact test equipment to discover the solution that best suits your individualized needs.
IT 152-4K
The IT 152-4K is the ideal solution for inclined impact testing. The carriage dimensions are 60 in. (152 cm) square and the maximum payload is 4000 lbs. (1814 kg).  The standard system can generate a maximum impact velocity of 7.3 ft./sec. (2.2 m/sec.).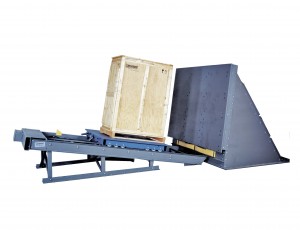 IT 213-6K
The IT 213-6K is the answer for performing inclined impact tests on very large and heavy test items. The carriage dimensions are 84 in. (213 cm) square and the maximum payload is 6000 lbs. (2721 kg).  The standard system can generate a maximum impact velocity of 7.3 ft./sec. (2.2 m/sec.).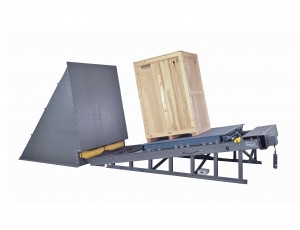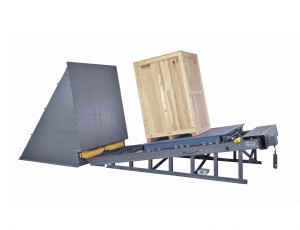 Special – Large Format Test System
TruMotion™ Acceleration Sled
Our TruMotion Acceleration Sleds are not Inclined Impact Test Systems. However, often the goal of inclined impact testing is to evaluate the performance of unitized load containment – versus resistance to shock inputs. To properly accomplish that goal, it's important to allow the unrestrained load to respond to the test acceleration inputs – meaning no bulkhead and no side impact. TruMotion Acceleration Sleds provide that unique, controlled approach.
Benefits of Inclined Impact Test Systems
Putting your packaged product through inclined impact pre-shipment testing system provides valuable insights into its protective performance – before sending it through the supply chain. Other benefits gained through inclusion of inclined impact testing include:
Providing insights into optimal packaging design.
Preventing product damage.
Complying with industry regulations.
Allowing for repeatable testing.
Minimizing losses.
Saving cost and money.
Improving deliverable product quality.
Facilitate Your Side Impact Testing With Equipment From Lansmont Today
You can optimize your product protection during the shipping and handling processes using inclined impact test systems from Lansmont Corporation. We've spent over 50 years providing engineers worldwide with the technologies they need to detect vulnerabilities and discover a balance between a product's durability and its intended environment. Our effective instrument and testing laboratory solutions are engineered and produced to prevent damage and improve quality through sustainable practices.
Fill out an online form with any questions you may have, and our team will get back to you shortly!