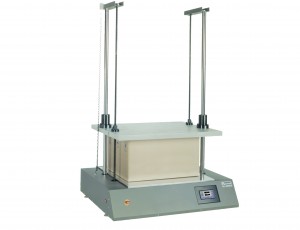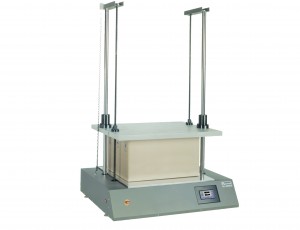 Squeezer Compression Tester
The Squeezer is our smallest compression tester. Designed to evaluate box performance, the Squeezer is a valuable tool for researching the effects of various board mediums, closures, interior partitions, and other box design variables on compressive strength performance. The Squeezer can also be used for distribution simulation compression testing on individual packages.
The standard system has a platen size that is 30 in. (76 cm) square with a maximum opening of 48 in. (122 cm).  An optional extended platen is available for testing larger boxes/packages. Both platen options can be either fixed or fixed/floating configurations. Maximum force capability is 5000 lbs. (22.2 kN).
To make the Squeezer easy to operate, the automated test routines are selected and setup through the touchscreen located on the front of the unit. Most commonly the box Squeezer is installed on top of a laboratory bench or with one of the optional machine test stands. The self-contained test system only requires electrical power to operate.
Product Feature Highlights
Simple touchscreen operation
Constant Rate and Constant Load test modes
Self-contained design
Real-time display of force, deflection, temperature, and humidity
Easy data export
Product Specification Highlights
Max Force: 5000 lbs. (22.2 kN)
Platen Size: 30 in. x 30 in. (76 cm x 76 cm)
Max Opening: 48 in. (122 cm)
Product Options Highlights
Fixed/floating platen, providing the ability to either lock the platen during testing, or allow it to swivel as the test item deforms and/or fails.
Over-sized platens for larger test items.
Machine test stands, allowing a stable surface where the machine can be raised to a more functional operating height.
Fixed/Floating Platen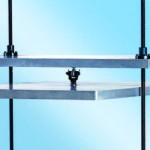 Machine Test Stand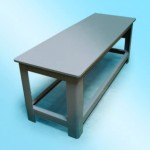 Over-sized Platen