High Performance Shock Test Systems
Consumer electronics, especially handheld devices, must withstand harsh impact environments. For defense and aerospace applications, components and systems must endure severe environments and continue to function dependably. Rigorous shock testing is necessary to ensure that ruggedness is a reality.
Lansmont has designed literally hundreds of different shock systems over the years to meet the ever changing demands for shock testing capability. As technology evolves, so do the test methods needed to confirm durability and reliability.  Lansmont has developed two categories of higher performance shock systems to meet the industry's demands.
Performance and High Speed Shock Test Systems cater to testing applications that require increased shock testing performance capabilities including:
Heavier payloads
Higher acceleration shock pulses
Shorter duration half sine shock pulses
Increased impact velocity (velocity change)
Models are available in a wide range of table sizes. Additional features include Acceleration Kits, Low Frequency or Floating Seismic Bases, and custom table designs.
Performance Shock Test Systems

Performance Shock Test System table sizes range from 9.06 – 48 in. (23 – 122 cm).  Custom table sizes are also available. Variable machine height and acceleration kit options allow Performance Shock Test Systems to be configured specific to shock test performance requirements (maximum velocity change, acceleration amplitude).  When shock testing specifications ask for more performance, Performance Shock Test Systems provide the answer.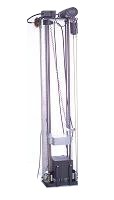 High Speed Shock Test Systems
High Speed Shock Test Systems were developed to achieve the most demanding defense, aerospace, and electronics shock testing specifications. These highly specialized shock systems can generate incredible impact velocities.  The HS models can generate a maximum velocity change up to 120 ft./sec (36.6 m/sec) and the HSX models are even faster–up to 150 ft./sec.  (45.7 m/sec)*.  High Speed Shock Test Systems are available in table sizes ranging from 6.3 – 18 in. (16 – 45.7 cm).  Custom table sizes are also available.
*custom systems capable of up to 180 ft./sec (54.9 m/sec).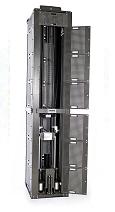 Test Partner™ 4
TEST PARTNER 4 (TP4) is the latest generation data acquisition system designed to capture and analyze dynamic events where high frequency bandwidth is required. TP4 features fast data sample rates, configurable analog channels (to support IEPE sensors or perform event detection), and high channel count capabilities, giving you versatility to perform data acquisition for complex testing applications.