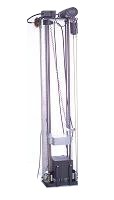 P23 Shock Test System
The P23 Shock Test System can accommodate heavier payloads and perform higher energy impacts than the standard Model 23. The P23 can be equipped with optional shock pulse programmers to generate a wide range of half sine, trapezoidal and terminal peak sawtooth shock pulses.
The P23 includes a TouchTest Shock 2 Table Top Control Console. TTS2 makes operating your shock system easy and safe. TTS2 communicates seamlessly with Test Partner Data Acquisition Systems.
Product Features
TouchTest Shock 2 Controller for easy and safe operation
Forged aluminum table design for generating high acceleration shock pulses
Acceleration Kit to increase velocity change performance
Electric hoist lifting and positioning system enables precise drop repeatability
Floating Seismic Base to limit the shock energy that transmits to the floor
Full range of applications training programs available
Worldwide Customer Service department
Product Specification Highlights
TABLE DIMENSIONS:  9.06 x 9.06 in. (23 x 23 cm)
MAX ACCELERATION:  5000g (10,000g optional)
MAX VELOCITY CHANGE:  22 – 55 ft./sec (6.7 – 16.8 m/sec)
MAX PAYLOAD:  110 lbs. (50 kg)
Product Option Highlights
Customized table mounting patterns available
Low Impulse Kits to extend low level testing capability
Dual Mass Shock Amplifiers to generate extremely high acceleration levels (10,000g+)
Additional Shock Pulse Programmers for short and long duration half sine, trapezoidal, and terminal peak sawtooth shock pulses
Test Partner Data Acquisition and instrumentation for data collection and analysis
Complete product details available on downloadable specification sheet.