Test Partner™ Data Acquisition and Analysis Systems
Data acquisition systems are critical for both product and package dynamic testing scenarios. At Lansmont, our Test Partner shock data acquisition systems recognize the needs of product testers across industries to deliver a capable, high-precision system.
Lansmont's Test Partner has always set the standard for computer-based acquisition and analysis of data from drop, shock, and impact events. Test Partner provides the versatility to acquire simultaneous, high frequency events, as well as detecting events where discontinuities occur within electrical connections of devices subjected to dynamic input conditions.
What Is Test Partner?
Test Partner is a computer-based system for shock data logging. Our models integrate with your computer system to acquire advanced, high-fidelity data during drop, shock, and impact tests. These systems capture and store all acquired data on your computer, using our user-friendly software system, which allows you to access the entirety of this data at any time.
How Does It Work?
At Lansmont, we carry two different Test Partner models. While both operate on the same foundational principles, they each come with their own unique characteristics. Our Test Partner chassis integrate directly with your computer system via a physical connection. Depending on the model you have, your Test Partner requires either a USB or Ethernet port.
Data acquisition systems like the Test Partner use accelerometers to gather quantitative data. Those sensors are attached directly to the devices under test (DUT), which are then typically subjected to some type of programmed shock, impact or drop
Signal conditioning is the process of preparing electrical sensor signals for data collection. After applying the appropriate signal conditioning to the sensors being used, the data captured by Test Partner hardware will be logged in your Test Partner software program. You can view the collected data in real-time, as it is captured and use the included software tools to track and organize all vital analysis parameters.
Test Partner™ 4
TEST PARTNER 4 (TP4) is the latest generation data acquisition system designed to capture and analyze dynamic events where high frequency bandwidth is required. TP4 features fast data sample rates, configurable analog channels (to support IEPE sensors or perform event detection), and high channel count capabilities, giving you versatility to perform data acquisition for complex testing applications.
TP4 is ideal for testing applications requiring high sampling rates and high channel counts. TP4's embedded database file management makes data organization simple with multiple data sets and impact event recordings.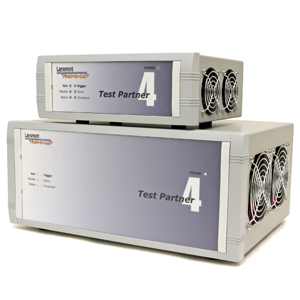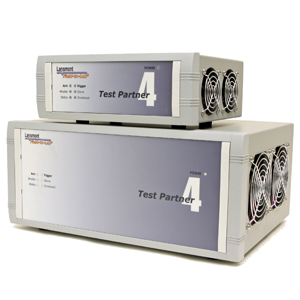 Test Partner™ 3
Lansmont's Test Partner 3 (TP3) has always set the standard for computer-based acquisition and analysis of data from drop, shock, and impact events.  Simply install the hardware on your desktop or notebook without ever opening the hood — simply plug in the hardware to your computer's USB port.  Then, load the software, and you are ready to begin acquiring and analyzing data.
This compact system's quick integration via your computer's USB port makes it easy to take with you anywhere you go, including remote locations. If you want to perform measurements on-site in remote locations, TP3 offers accurate shock data logging with added convenience.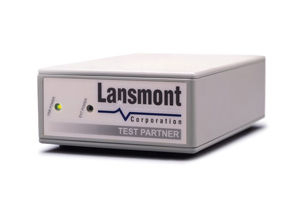 Applications for Our Shock Data Acquisition System
Test Partner supports many industries and applications with its ability to adapt to a range of test events. This shock data capture equipment offers value to high-precision industries where accurate, defendable test results are a must. Common industries for this equipment include aerospace, automotive, consumer and industrial electronics, protective packaging, medical devices and pharmaceuticals.
Test Partner supports a diverse range of applications, including:
Testing and validation of new component designs.
Durability testing for shock-sensitive equipment.
Examining structural damage potential during impact events.
Engineering earthquake-prone infrastructure.
Defining the protective performance of packaging materials and designs.
Contact Lansmont for Shock Data Acquisition Solutions
Lansmont specializes in testing equipment and instrument solutions for various industries. We believe in practical systems designed for ease of use and long-term performance. With shock data capture from Test Partner, you add confidence to your test, analysis, and evaluation activities. Whether you need a large, advanced system or a powerful, portable one, we have the solution for you.
Get in touch today to learn more.