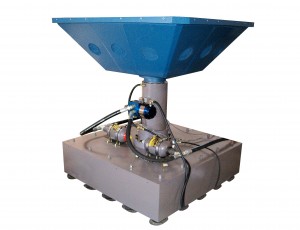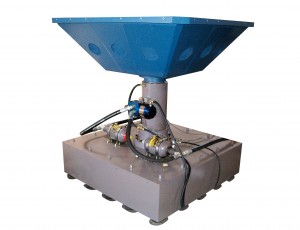 Model 28000 Vibration Test System
The Model 28000 Vibration Test System is designed for either distribution-type tests with extreme payloads or high performance testing for product evaluations. The complete system features a table sized to your application, a rugged hydraulic actuator, a reliable hydraulic power supply, and Lansmont's TouchTest Vibration Controller.
The TouchTest Vibration Controller completely integrates the test hardware, operating controls, data analysis and reporting functions. The system can perform random vibration, Field-to-Lab® simulations, resonance search and dwell, sine sweep and repetitive bounce tests all under closed loop computerized control.
Product Features Highlights
TouchTest Vibration Controller for easy and safe operation
Testing capabilities including random vibration, swept sine vibration, resonance search and dwell, repetitive bounce and Field-to-Lab® simulations
Fully integrated pump and servo controls (all manufactured by Lansmont)
Self-contained Hydraulic Power Supply only requiring electrical power (no cooling water needed)
Full range of applications training programs available
Worldwide Customer Service department
Product Specification Highlights
FREQUENCY RANGE:
Standard Performance:  1 – 300 Hz.
High Performance:  1 – 500 Hz.
TABLE SIZES: 
36 in. (91 cm) square
48 in. (122 cm) square
50 in.  (127 cm) square
60 in. (152 cm) square
60 x 98 in. (152 x 249 cm)
102 x 160 in. (259 x 406 cm)
ACTUATOR FORCE (@ 3000 psi):
Stall Force:  29,400 lbs. (131 kN)
Dynamic Force:  19,600 lbs. (87.3 kN)
Product Options Highlights
Optional table sizes available
One-G Supports for increased performance
Column stacking fixtures and hold down fixtures for securing test items
Response channels (accelerometers) for instrumented testing
SAVER Field Data Recorders and Field-to-Lab® Services
Complete product details available on downloadable specification sheet.
Table Sizes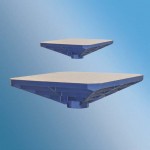 DUT Hold Down Fixtures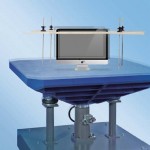 SAVER Data Recorders