Secrets of the Dinosaur Mummy

Explore the groundbreaking science unfolding around Leonardo, an exquisitely preserved – one of a kind – dinosaur fossil. Leonardo is a unique specimen- a dinosaur that's more than just a pile of bones! Fossilized skin still covers most of his body. After his death the body apparently mummified, and then slowly fossilized over time. For a 77 million year old relic, Leonardo has survived almost amazingly intact.
As part of the science exploration, paleontologists wanted to see inside his body with hopes that soft tissue impression might survive. Clearly they couldn't destroy the fossil by chipping away the skin, instead they opted for a high tech scan to peek inside. To perform the scans, paleontologists needed to transport Leonardo from his home in northern Montana to the Johnson Space Center in Houston, Texas. To make the trip possible, Bill Armstrong and his crew from Sealed Air designed and built a custom protection system.
Lansmont provided field measurement support for the project – including a "dry-run" pre-shipment project – and monitoring the complete transport to Houston. To assess the transportation severity conditions, Lansmont mounted SAVERtm X series field data recorders to the trailer and to Leonardo's shipping create. The instruments continuously monitored tri-axial acceleration, temperature, relative humidity and GPS location, speed, and heading. This allowed the instruments to feel the trailer vibration and Leonardo's response. Dale Root of Lansmont followed the truck with a camera equipped chase vehicle to document the entire trip. The camera feed has been integrated with the instrument data streams to provide situational awareness and an intuitive understanding for the cause / effect relationships between the road conditions and vehicle dynamics.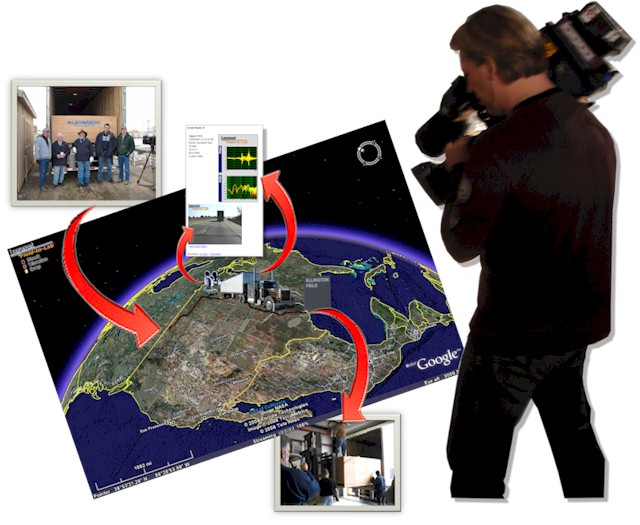 The main story of the Discovery Channel documentary follows the paleontologists and the unfolding science around Leonardo. The road trip to Houston could best be described as a supporting role in the big science picture. Cameras were rolling for the entire transport process, but the main story is obviously with the paleontology. That said, it should be interesting to see how Lansmont instruments helped make the trip possible – and happen safely.
Discovery Channel – Secrets of the Dinosaur Mummy
Myth Merchant Films – Trailer 6:13
Order the DVD
The Leonardo Project at MummyDionsaur.com
Computer Graphics World article
Lansmont – Leonardo Project – Transportation Severity Reports