Shock Test System Upgrades
TouchTest Shock Controller
TouchTest Shock (TTS) is designed specifically with test efficiency and ease of use in mind. From a small, high-resolution LCD touch screen, the user can perform the initial setup and test initiation quickly and easily. Simple touch screen menus enable the user to make convenient adjustments to machine settings and to provide total control of the Lansmont Shock Test System during operation.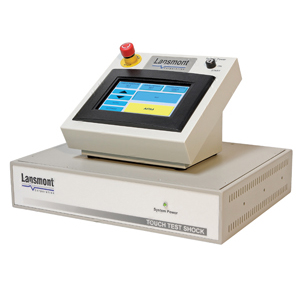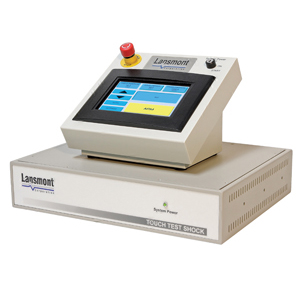 Opposing Force Gas Programmer
Lansmont has designed an innovative accessory for our Shock Test Systems, called the Opposing Force Gas Programmer (OFGP). This assembly, which is bolted directly to the bottom of your table, allows for a wide range of targeted half-sine shock pulses without requiring any physical adjustments of the hardware itself. Users simply program both the targeted pulse amplitude and duration directly into Lansmont TouchTest Shock controls and the OFGP automatically adjusts its own operating parameters accordingly. Lansmont's OFGP removes the trial and error from your shock testing setup, making your laboratory efforts much simpler, efficient and repeatable.