Data Analysis Services
Are you making design decisions about product durability or protective packaging to improve in-transit and in-use performance of your company's products? Are you involved with asset protection, machine health monitoring or measuring other environmental variables that can affect your company's valuable assets? In the past, you may have trusted Lansmont instruments and test equipment to provide the data you needed to make your own decisions. Now, you can trust Lansmont data specialists to interpret your data and provide you with even greater confidence.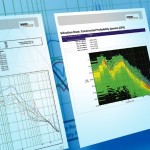 Ask an Expert
Lansmont data specialists are experts at acquiring, analyzing and summarizing data; if you need help defining parameters or protocols, we can help. Our specialists are experienced at filtering and interpreting relevant information—so you can be entirely confident in their ability to provide unambiguous, defensible decisions from collected data. When you know more, it's easy to choose the right course of action.