TruMotion Acceleration Test Systems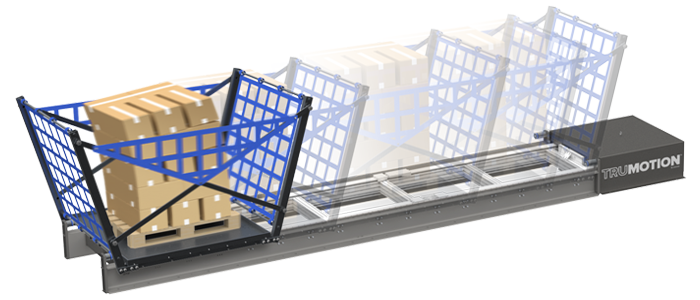 When transport vehicles accelerate, turn or brake, the resulting low-frequency accelerations can cause unit loads to shift. Due to both safety issues and potential product damage/waste, regulatory bodies are requiring testing that's closer to reality – assuring safe and stable unit load integrity! Introducing Lansmont TruMotion Acceleration Systems. Our advanced simulation solutions help to deliver regulatory compliance by bringing true-to-life test results directly into your laboratory. Lansmont's SAVER 3D15 field instruments can characterize those events and their overall impact on unit loads.
Simulate long-duration, low-frequency input forces (no impact) associated with vehicle accelerating, turning and braking.
Challenge unit load stability and integrity, determining if they will remain unitized and stable for transport.
Quantify peak displacement that occurs during test events, as well as permanent displacement that remains after testing.
Meets EUMOS 40509 Requirements and FMCSA Cargo Securement Rules.
Optional extended lengths for added performance.
User defined acceleration vs. time test input profiles.
TruMotion Acceleration Sled Details
Model : 1500 mm – 21 kW
Carriage Size: 1500 mm x 1500 mm
Carriage Weight: 204 kg (450 lb)
Max Payload: 1500 kg ( 3307 lb)
Max Bare Carriage Constant Acceleration (g) (300 ms dwell): 1.6 g
Max Carriage Constant Acceleration (g) (300 ms dwell) w/ 1500 kg: 0.85g
Max Velocity, bare carriage (m/s): 5.49 m/s (216 in/s)
Max Velocity, w/ 1500 Kg payload: 2.92 m/s (115 in/s)
Max Stroke: 3378 mm (133 in)
Overall Machine Dimensions (mm): 5863 long x 1800 wide x 1748 tall (231" x 71" x 70")


Machine Weight (kg): 1361 kg (3000 lb)
Utilities Required: 400/460 VAC 60/50 amps (50/60 Hz)
Performance Specifications:

Options:
Laboratory Testing Measurement
Test Partner 4 with DC Response Instrumentation provides the ability to read and resolve long-duration, low frequency acceleration and force measurements. This allows for verification of system performance inputs, as well as measurements of the unit load responses.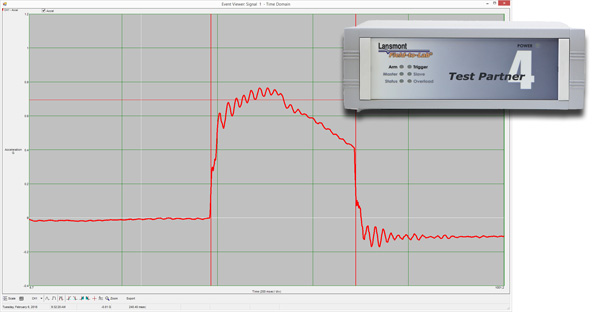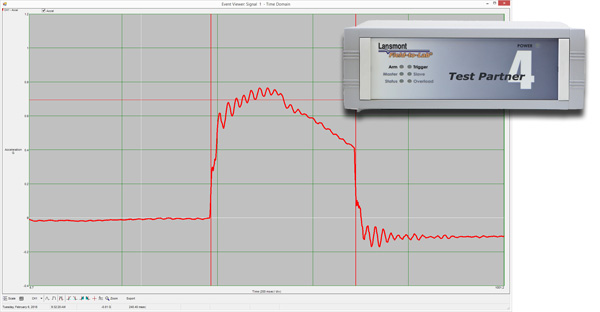 Field Measurement:
The SAVER 3D15 is the proper field instrument for investigating and measuring those low frequency acceleration events that result from vehicle accelerating, turning and braking.