SAVER™ Shock and Vibration Data Loggers
SAVER Environmental Shock and Vibration Data Loggers can measure and store thousands of triaxial acceleration time-history events. The collected data allows for the assessment and characterization of the dynamic characteristics of various transport and in-use environments. SAVERs are self-powered data loggers that provide 16-bit resolution, an internal triaxial accelerometer, along with temperature and humidity, atmospheric pressure tilt and light sensors. All communication with the SAVERs occurs via USB connectivity. All SAVER data includes time-domain waveforms with programmable pre-trigger, SRS (Shock Response Spectra), PSD (Power Spectral Density), and optional GPS spatial and situational data awareness.
Test Partner
Test Partner has always set the standard for computer-based acquisition and analysis of data from drop, shock, and impact events. Test Partner provides the versatility to acquire simultaneous, high frequency events, as well as detecting events where discontinuities occur within electrical connections of devices subjected to dynamic input conditions.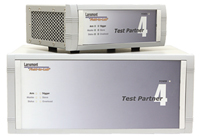 Shock Test Systems
Lansmont manufactures a wide variety of Shock Test Systems.  Shock tests accurately measure the fragility of products and evaluate how they respond to specific shock inputs. Shock test data is key information when determining if your product is capable of withstanding its intended distribution and use environment. Whether you wish to perform a complete Damage Boundary Fragility Assessment, an industry or MIL-STD shock test, or a company-specific test specification, Lansmont builds a Shock Test System to meet your application.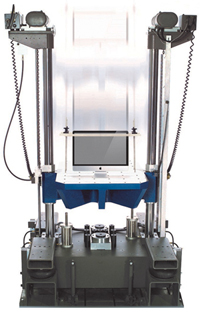 Vibration Test Systems
Vibration Test Systems are used to evaluate resonant frequencies of product and package designs as well as to simulate the random vibration that occurs in the distribution or in-use environment. Lansmont's Vibration Testing Systems are simple to operate safely and can perform a wide range of vibration tests in accordance with government, industry and corporate specifications.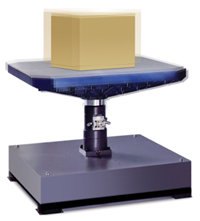 Drop Test Systems
Drop testing determines the ability of a package to withstand the impacts prevalent in the distribution environment. Lansmont Drop Test Systems are the gold standard for accurate and repeatable drop testing.  Every drop tester we manufacture is factory-calibrated to ensure it exceeds industry specifications.
Compression Test Systems
Stacking forces generated during warehouse storage and transit can generate severe compressive loads. Compression tests are an essential part of the package design process. Lansmont offers a full range of Compression Test Systems to determine the performance of unit loads, individual packages, components, and materials under compressive loads. This information enables the engineer to minimize damage, costs, and liability due to stacking failure.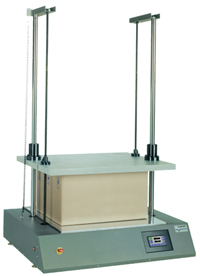 Mechanical Shakers
Packaged-products must withstand vibration and impact dynamic energy while being transported. Mechanical shakers are a low cost testing equipment option for challenging the integrity of your packaging designs. Lansmont Mechanical Shakers comply with repetitive shock requirements as referenced in industry standard testing specifications including ASTM, ISTA, ISO, and MIL-STD.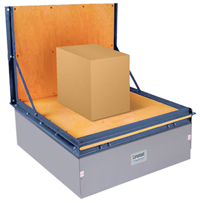 Inclined Impact Test Systems
Lansmont Inclined Impact Test Systems perform testing per industry specifications with the added benefit of some new and innovative design features. The unique articulating carriage system we utilize allows the carriage to pivot and raise so that it becomes parallel with the ground.  This design feature makes it much safer and easier to load test items with a forklift.  After the specimen has been loaded, the carriage pivots back into its testing position and you are ready to begin impact testing.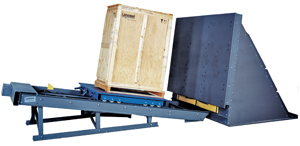 Custom Engineered Solutions
Lansmont has established an impressive global installed customer base for our standard product offerings. Our talented Engineering team has also delivered a large number of Custom-Engineered Solutions. Below we highlight some of the custom solutions we've delivered to customers over the years.


Used Equipment
Lansmont's test equipment and instruments are built to last. From time to time, Lansmont purchases used test equipment / instruments from customers that are upgrading, downsizing or closing laboratories. Lansmont refurbishes and then resells this used test equipment / instruments at a discounted price.Any used equipment and or instruments is factory certified and carries a limited warranty.  As equipment becomes available, we'll list it here on this page.