Standard SaverXware and XwareETC
Every SAVER Field Instrument includes SaverXware software. This software platform allows communication with the SAVER hardware for setup prior to recording as well as data analysis once the SAVER has recorded some events. Data analysis features include drop heights, impacts, vehicle motion, and vibration as well as temperature and humidity cycles.
Measurement Setup
Users are provided with simple, standard Setup Gateways for the most common measurement applications. Advanced setup options are also possible which provides complete control over all setup parameters.
Data Analysis
SaverXware includes powerful analysis features to evaluate recorded data in the time domain and frequency domain. Summary analysis can be performed on individual or multiple events.  Vector Visualizer is a popular software feature than helps explain the direction and intensity of recorded dynamic events.
Event Table and History
Multiple data files can be viewed in a common project database. Recorded events are chronologically presented in Event Tables.  Quick History is a graphical representation of the recorded events and displays the captured data from beginning to end in one view. Thumbnail images of individual events and summarized data are provided and update automatically when viewing or processing the data differently.
Summary Reporting – See SaverXware ETC options below for advanced analysis and reporting tools
SaverXware will generate user-defined summary reports and export the results. Additionally, it is possible to export the data itself to ASCII files for further analysis and reporting using spreadsheet or other universally available software applications.
Standard SaverXware Analysis Features
Event Classification: Automatically categorize each event (shock, vibration, drop or general)
Event Processing: Process all data from different "points of view" (shock, vibration and drop)
Simultaneous Trip Analysis: Create an event database that includes multiple instruments and trips
Enhanced Summary Selection: Build event selection criteria to quickly search the database and find desired information.
Customized Printing and Reporting: Everything from automated summary overview reports to detailed event-by-event printing
GPS Mapping: With GPS coordinates recorded during each event,  a map can display each event by location and intensity (Requires SAVER GPS option)
SaverXware ETC Analysis and Reporting Features
All the functionality of standard SaverXware, plus:
Simple Health Monitoring and Reporting: User-defined Warning and Alarm thresholds for acceleration, temperature and humidity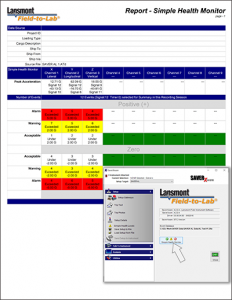 Report Builder: New comprehensive data reporting, performed on individual, or multiple SXd files simultaneously
Quick Ranges
Impact Intensity
Impact Orientation
Vibration Orientation
Vibration Intensity (Constructed Probability)
Drop Height and Orientation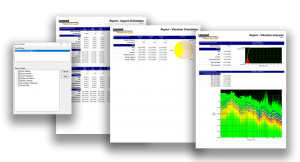 Contact Lansmont for Information